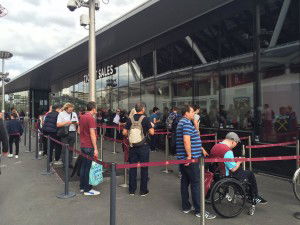 The club has quietly launched the details of the new ticket forwarding system which is likely to compete with the existing ticket exchange system.  The functionality allows you to forward your season ticket to a friend or family for London Stadium games you can't make.
The scheme is free to use for season ticket holders but the receiving friend or family member pays a £1.25 booking fee direct to Ticket Master to print off their ticket at home.
Up to now, it has been technically illegal to lend or sell your season ticket access card to a friend or family member as tickets are strictly non-transferable and you could find yourself in breach of anti-touting laws which in theory carry a fine of up to £5,000.  Under The Ticket Touting (Designation of Football Matches) Order 2007 act it is illegal to sell a ticket for a designated football match or otherwise to dispose of such a ticket to another person. Some people wrongly believe they would only break the law if the ticket is sold above face value but this is not the case in football and giving away your ticket could be defined as touting under the strict law.
Your season ticket terms and conditions also forbid the transfer of your ticket and say: "If the ticket is resold or transferred without the prior written consent of West Ham United Football Club or any one of its authorised sub-agents, it will become void and the holder will be refused entry to or ejected from the Stadium for that and all future fixtures"
This new system allows for the legal transfer of the seat as it is authorised by the club. Don't worry if you haven't got a friend as you also donate your seat to the West Ham Foundation charity so less fortunate fans can watch the game.  Just donate your seat to Client Reference 90167973.
Although the system is designed to forward on to other West Ham fans with an existing client reference number if they haven't got one it will prompt your friend to create a new account on the West Ham ticketing site and he or she will be assigned a client reference number for free.
The new functionality will be a welcome change for many who want to share their seats with their friends and family but equally the system could be abused by some season ticket holders who could ultimately tout their seats on social media and online forums to the highest bidder then forward their seats on to strangers after arranging payment electronically.
Full instructions on the new Ticket Forwarding system can be found at http://www.whufc.com/tickets/ticketforwarding