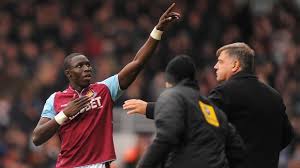 So Mo Diame has taken it upon himself to repeat what many fans have been saying all season!
He claims in an outburst to a French magazine – widely reported in the British media  – that West Ham did not bring in enough quality last summer and that the players didn't put in 100 per cent.
He says the two things are linked which of course is not rocket science and nether is this: DIAME SHOULD NOT BE SAYING SUCH STUFF!
He blames the owners, the manager and of course the players …everybody bar himself it seems despite giving us a season of under achievement interrupted by an odd moment or two of endeavour and quality.
Not a world away from anyone else then with his end of season stats reading 41 appearances for four goals!
He made sure in his attack that he touched the pulse of the fans and thus much of what he had to say will not be judged in the correct light.
But here's the bottom line. Mo Diame's first loyalty is to the club that pays him his £40k a week and his team-mates…not unlike any among the rest of us who earn our living courtesy of someone else.
Diame's future has been a subject of speculation for many months. Arsenal, Liverpool, Everton and Spurs have all been linked with the player and now this emerges. In fact there hasn't been an offer from anywhere. A big Hmmm!
The fans could be forgiven for wondering whether the comments were made for the good of the club or whether Mo Diame is trying to force a move for there is no good that can come from his criticisms.
He has a year left on his deal. Interest from other clubs will be based solely on how they believe he performed over the last couple of years but I see no serious wage rise coming his way.
If he does get a move its more likely to be a Stoke City, Crystal Palace or Sunderland than a Chelsea, Arsenal or Manchester City.
Thus, his wage level will remain much the same and quite how this interview will have helped him is hard to understand.
So what was the point of it all? None as far as I can see apart from allowing us to take a closer look at his input last term which, let's be honest wasn't great.
Odd, unhelpful and unnecessary Mo!  Time for a reality check on yourself mate