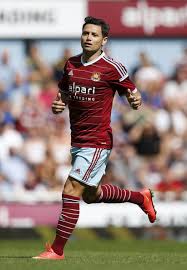 We have reached the season-defining time of the year that Sam Allardyce has been alluding to for a few weeks.
At regular intervals he has made it clear that he won't be discussing end of season objectives until the end of this month.
Tuesday night and the third round of the FA cup beckons with the pressure mounting on him and the team with every successive game.
In different circumstances, with injuries and the African Nations Cup intervening, this might have been the perfect game for Mauro Zarate to take the pressure off himself and Allardyce.
With the alternative being Kevin Nolan for a game which calls for us to play with as much flair and adventure as possible after looking shy in front of goal lately, how brave would it be for manager and Argentinan striker to put their antagonism towards each other aside.
Ego is a highly destructive force and the stupid war of words which broke out between the pair has not done them or the club any good at all.
With three games yielding one point, the top scorer again injured, along we are told with the guy on who has proved himself the heartbeat of things this season – Alex Song – things don't look great for the trip to Goodison Park. .
Chiek Kouyate has joined the Senegal squad and there are persistent rumours that Song himself will get a late call up for Cameroon.
Brave decisions are called for so and this one only needs a handshake and an arm around the shoulder. Live up to the nickname Mr Allardyce – truly be BIG SAM!.
The board of directors are still looking for a decent FA Cup run after the disappointment of the early departure from the Capital One Cup. In part an end of season contract for the manager undoubtedly rests on an FA Cup run.
So from everybody's point of view this is something of a must win game. We really can't be slipping out of the two domestic cups at the first hurdle and there's absolutely nothing lost in telling Zarate: "Go on my son – prove me wrong!"
I don't expect it to happen and I'm certainly not holding my breath but I am convinced that given such a chance, Zarate would shine like never before.
It could be a managerial masterstroke and if it doesn't come off Sam Allardyce has lost absolutely nothing!
Be bold …be BIG Sam!