By Richard Oses
founder of Bubbles Fanzine which can be found at https://www.facebook.com/bubblesfanzine?fref=ts
Richard's views – like those of all other bloggers – are his own and are not do not necessarily reflect those of ClaretandHugh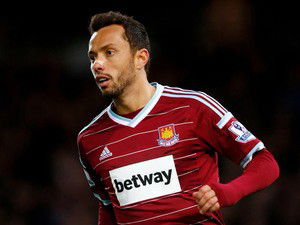 Nene has to play our next game. As simple as that!
In fact, being that Diafra Sakho is likely to miss the rest of the season, Enner Valencia (should he return as expected) will be leading the line on his own and one can only assume Nolan will be sat behind him.
What I would love to see is Downing sat behind Valencia and Nene on the wing, the pace and creative play that trio would bring to our attack would be streets ahead of what we have seen playing one upfront so far this season.
It is a frustrating head scratcher as to why a former PSG winger is finding himself even behind the likes of Nolan and Cole, especially in games where some magic skill, a nippy runner and a seasoned finisher would have made the required difference and perhaps helped convert draws into wins.
There are some who have voiced their Sam isn't keen on the Nene signing therefore will not play him opinion – who knows but it's difficult to come up with alternative theories.
Performances are poor, the players' confidence is fragile which may well be due to the uncertainty surrounding the manager's own future. The fans are fed up and the club has nothing to play for except more money and pride.
Get Nene on the pitch to add a touch of class to our misfiring front line and we may just see the team scoring the required amount of goals in remaining games to actually seal all three points and put some smiles back on the faces of our fans.
Sam wouldn't even need to tweak the formation too much either, but one simple addition to the starting XI to inject some pace and flare could make a small change return huge results for the good of the team.
Not only that, but Big Sam can bow out with some dignity at the end of the season which he surely deserves like any other human being.