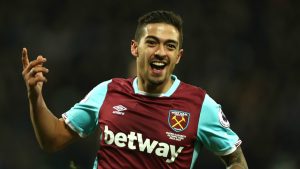 Joao Mario has given himself a chance of becoming a Hammers player but there's a long way to go.
He scored a great goal and produced a fine all round performance after failing to show real form in his previous run outs for the club.
But in the absence of Manu Lanzini (pictured right)  he was called up by David Moyes against what turned out to be a very very poor Southampton team.
So whilst it was great to see him hit his stride we have to be careful not to go OTT given that Saints are not only looking certs for the drop but likely to struggle with Championship based on yesterday's performance.
It will be very interesting to see where Mario is used from here and given that it's Chelsea up next – and a more defensive approach  required – whether he will get the nod over him.
If it's a straight choice between the two then David Moyes choice will clearly give us some interesting thoughts on his mindset.
Judgement needs to be reserved at this stage but with Mario already saying he is unlikely to be returning to Inter-Milan although the Hammers will not be interested in signing him at the reported fee of around £25 million.