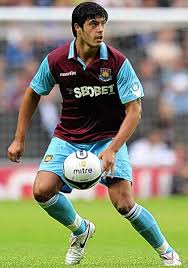 James Tomkins is heading for a scan this week on a hamstring injury he picked up in training on Friday.
The central defender has been in some real pain over the weekend and was spotted limping heavily as he left Upton Park on Saturday evening.
Club medics are unready to give a serious diagnosis on the injury until he has received a scan which we understand is likely to be either today or tomorrow.
However, there are some real fears the central defender could face several weeks on the sidelines given the urgency the club is attaching to the search for a replacement.
Claretandhugh revealed yesterday the hunt is on for a loan signing and the club hope to have got their man in time for the Palace match at the weekend.