James Tomkins is disappointed at two dropped points but wants to take it out on Everton tomorrow night (Tues).
He's particularly fed up that the equalis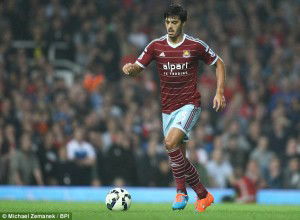 er at the Liberty Stadium came from a set piece and he said: "We work hard on them in training every week and we  conceded from one.
"It was a bit unfortunate with the way it went between Nobes and the post, but we'll move on. "
And talking of Andy Carroll's strike he said: "You normally associate Andy Carroll's goals with his head because he is a big lad in the box, but he had to move his feet around and he put it in the top bin. He tells me he does it in training every week, but I'm not sure about that, speaking to the lads!
The fans have stayed behind us and their support was great again on Saturday. We're playing well and the wins will come again, I'm sure.
"The Everton FA Cup game on Tuesday is a good opportunity for us. We don't want to look too far ahead, but if we get through we have got a game which is another winnable one. This is a massive chance for us to have an FA Cup run, but we need to beat Everton first and they're a strong side.
"On the night at Upton Park, I'm sure we can win that game."