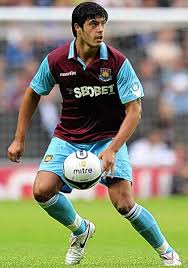 James Tomkins will bide his time before packing his bags for the Nou Camp! Local boy Tonks is too aware to the Cockney Boys;' sense of humour to do anything else !
The smiling central defender left the Hawthorns happily answering questioned from the local media pack after the Irons faithful had sung: "Barcelona. we're coming for you" during the 2-1 win on Tuesday night.
But the 25 year old smiled: "That's just our fans showing their sense of humour. None of them will be getting too carried away and neither will the players.
"Who knows what we can achieve but watch this space because we are on a run. We're enjoying the football we are playing and getting a few players back that will make us even stronger."
Speaking to The sun he added: "It's hard to get where we are but the hardest part is to stay here. Around Christmas you can see a lot of people fading."