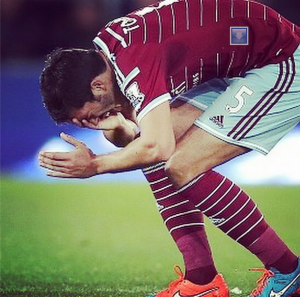 West Ham defender James Tomkins has admitted he was wrong to collapse in a heap holding his facew after a pushing incident between him and Kevin Miralles.
He did himself no favours at all when Mirallas seemed to push him in the chest after the teams squared up to each other following another bad tackle on Morgan Amalfitano.
He told the Newham Recorder: "He has obviously caught me quite high on my neck and my chin and I am thinking about helping the team."
The central defender was widely criticised on social media as well as by pundits on television including former England striker Alan Shearer.
Tomkins said: "Looking back it is not the way to react. The lad was over the top and pushed me with two hands, but from me it was just a reaction, it happens so quick and you don't think at the time."