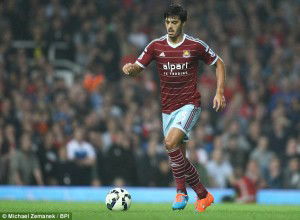 James Tomkins has dubbed Manchester United's Robin van Persie "malicious"  despite having his nose broken by Marouane Fellaini in yesterday's game at Upton Park..
Speaking after the game Tomkins said: "The nose is a bit swollen – Fellaini  has always got that about him when he goes up with his hands a lot.
"It is tough to say that he does it deliberately, but with the Van Persie one, I think he had a look at me first and then he has gone for me.
"I think that was more malicious than the other one, even though I came out worse the second time."
Tomkins went up for an aerial duel with the United front man and Van Persie clearly took a look behind before swinging an arm into his face for which Tomkins believed he should have been cautioned.
He said: "I was shocked he didn't get a yellow card. I think the linesman could have helped him a bit more, he was closer to it and he had a good angle.
"I think it was definitely a yellow at least, but I don't like to say that some should have got sent off. I am sure that there are challenges that I might make in the future that could be yellow or something else.
Referee Mark Clattenburg appeared to speak about the incident with the central defender after addressing RVP.
Tomkins explained: "He was just saying he was there to protect me and that he was going to have a look at it at half time or after the game and decide for himself, and I think if he sees it again, he can see that there is a bit of intent in there."
"I was expecting a little bit of physical contact from strikers, but when someone looks round and then comes for me it is a bit more malicious."