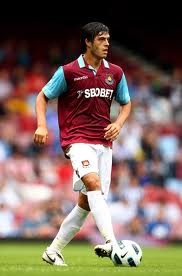 James Tomkins has admitted the Irons failed to capitalise on the Manchester United team that David Moyes chose to field yesterday evening.
And because of that he added that the team were disappointed with their performance saying: "We didn't give the fans much to shout about. We've disappointed them and we're disappointed ourselves
"We're obviously disappointed, because the side that Manchester United put out was a team that we could have made the most of. 
"Unfortunately, their qualities have obviously shown again with the two goals. The second one's unfortunate and the first is a great goal. We look at it ourselves as being a disappointing day."
Tomkins wasn't particularly disturbed by the nudge he appeared to get off Wayne Rooney before the striker scored bis long range goal.
He said: "I felt I got nudged. It's one of those that you've seen given. It could have gone either way I suppose, but having seen it back, it could have been given.
Adrian's not expecting it and it's a one-in-a-million shot. With a player of his ability you can be punished in this game."
"We started OK. Then they popped up with a worldy goal and that can kill you. That [swing in] momentum just killed us.
"Nobes has then gone to clear the ball and the chances of it hitting Rooney and going in the back of the net was just our luck on Saturday.
"We had a mountain to climb in the second and we tried to give it a go. We were a bit unlucky with a few decisions and nothing really fell to us in the box when it could have done. We're disappointed but the bigger game is on Wednesday night now."
"We can't dwell on it. A lot of the results went our way on Saturday and that's the good thing. Wednesday night's obviously a massive game and we need to get our form back on track.