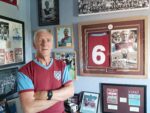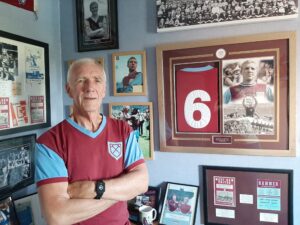 CandH blogger Allen Cummings has taken the interlude in football as an opportunity to name his ten best players to ever wear the claret and blue. Mark Noble was handed 10th place and 60s striker Johnnuy 'Budgie' Byrne  was in ninth. Home-grown Tony Cottee was his No 8 choice and another young Hammer protegee Martin Peters in seventh. Today we find our fiery Italia genius Paolo Dini Canio just failing to make the top five.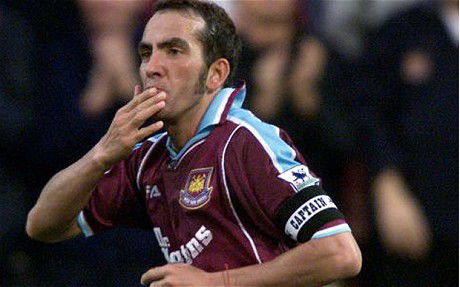 NO 6:  PAOLO DI CANIO
The most predictable thing about Paolo Di Canio was his unpredictability! And we loved him because of it! The old saying: 'It does what is says on the tin' didn't apply to Paolo, mainly because we never knew which particular tin he was going to open that day.
Genius and enigma, irrepressible and frustrating, enraging and engaging – Di Canio was all of those things – sometimes all in a single game. Who will ever forget his part in that amazing 5-4 match against Bradford City? His Goal of the Season cushioned volley against Wimbledon?
His coolness personified when facing Fabien Barthez, or his incredible sportsmanship by catching the ball to stop play against Everton? Paolo was an entertainer who never failed to captivate his audience.
There were many who thought Harry Redknapp had taken leave of his senses when he paid Sheffield Wednesday £1.7m for Di Canio – directly after he'd served an 11 match ban for a push on referee Paul Adcock that inspired 'that dive'.
In fact Harry had hit the jackpot. 17 goals in 44 league and cup game in the 1999-2000 season only tells half the story. Paolo's repertoire of skill, arrogance and often downright cheek thrilled us all during his four years at the club.
There was always a sense of anticipation when he got the ball. We knew something would happen – but we never new precisely what! Some claimed neither did he. Di Canio was a one in a million and I'm delighted to have seen and enjoyed him!