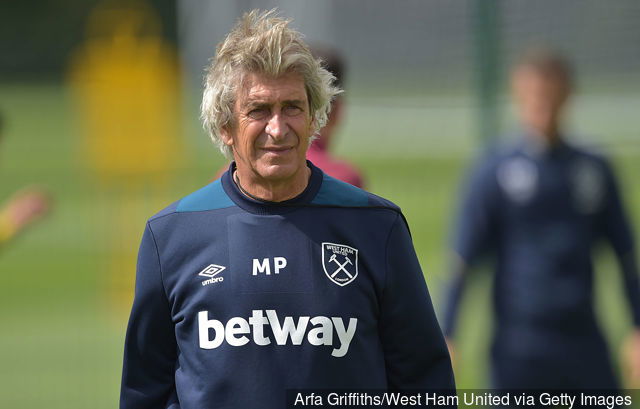 The Hammers have  made a cracking start to the season – at least by our usual standards and last year's  in particular.
Monday evening's clash with newly promoted Villa sees us go into the sort of territory in which we failed last season – think Brighton, Burnley and Cardiff for example.
We may have learned a lot about the sort of season in front of us by 10pm on Monday night.
Are we about to see the Manuel Pellegrini promises on his arrival at the club start fulfilled. Claret and Hugh website follower Ajay poses some pertinent questions!
By Ajay
Manuel Pellegrni said ( soon after arriving):  "I hope we can build a project here. I will not fail"
The proof of the pudding will be the continued backing of the board and, more pertinently, how ambitious they are in taking our club onwards and upwards and that will manifest itself at the end of the 20–21 season.
O Will Pellegrini have extended his contract?
O What quality of players will have been brought in?
O How many of our current quality players will still be with us?
O How good was the season and where did we finish?
O Food for thought!
Cand H says: There have of course been too many false Hammers dawns but they have always come under run of the mill managers who never saw the board splash out to the sort of sums handed to the Chilean.
Some fans still may not believe it's not enough but the manager has regularly claimed he is happy this season and now has two players for each position – probably the first key to success.
Much has been said about the form of the team but in reality this will probably turn out to be the most critical year of the three to which he has signed up.
Personally, we think he will make the top seven BUT then will come the acid test. Will the funds be available to strengthen for Thursdays in Europe followed by the Premier League pressure at weekends.
Look at Wolves. From last season's heady and surprising heights they are now stuck in 17th place with three points from four games.
Coincidence? I don't think so – Europe appears to be taking its toll and at a club where funds are reported to be in plentiful supply
Ajay's observations raise some very interesting points  but the Wolves league position may raise even more critical ones.