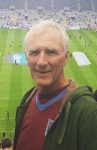 By CandH blogger Allen Cummings
I love the new Tottenham Hotspur stadium. Why wouldn't I after last Saturday's historic first visit. Played one won one – a perfect record in anyone's book.
Of course much has been written and spoken about the new ground since Spurs finally moved in  so it was good to have the opportunity to sample the place for myself first hand.
Driving to north London, the preferred option in previous years, is out of the question now as street parking, within a reasonable distance, is virtually non-existent. So it was train to Northumberland Park, a small two platform station served by the Greater Anglia line, which was extremely congested (both before and after the game).
Then a 14 minute walk to the ground. Outside, first impressions of the glass fronted stadium, with revealing views to the contoured inside was good. It definitely has the 'wow' factor. Inside, the away end concourse was somewhat cramped compared to other grounds. Food and drink outlets were plentiful and pricing was a lot cheaper than the London Stadium.
Wasn't aware of any beer shelves though, which probably didn't matter as there was an alcohol ban for our visit. Contactless only – and contactless outside for programmes by the way.
Toilet facilities were surprisingly limited for such a new arena – nowhere near the number of 'bowls' in the gents as you would expect. They were eco-friendly 'waterless' though – mind you McDonalds have had those for years. No Wi-Fi in the stadium – not our section anyway.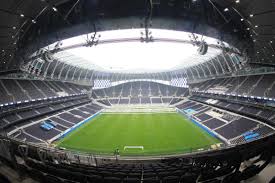 Our seating and view was fine – although with safe-standing barriers already in place where we were, space to move up and down rows was awkward. Plus it's worth mentioning despite being in row nine, a reasonable way back, we actually got wet when it rained.
I'd also be interested to know what the view was like for the West Ham fans behind the goal. The elevated pitch didn't look to offer the greatest sight lines for those in the front two or three rows. No argument the steep banking and undulating form of the stands looks impressive. But anyone with vertigo, or limited eyesight, might want to 'pass' on occupying any of the seats at the very top.
It's a long, long way up. It was difficult to judge the atmosphere in the ground, given the way the game went. In our away section it was obviously buoyant throughout. But barring the first 10 minutes or so the home crowd were nervously subdued – hence the regular choruses of "is this the Emirates"?
One of the early criticisms of the London Stadium was that it attracted 'tourists'. I saw plenty of evidence of the same – with numerous 'half scarves' on view. Who but a 'tourist' would wear one of those, especially at a London derby encouraging the taunt of "you're not Tottenham any more".
I must mention that on our way out I actually spotted a designated 'dog poo' area.  I can only guess it's a necessary facility for the numerous service dogs used on match days. That's what I call catering for every eventuality.
Overall the experience was a good one – but then that goes without saying. The stadium is big, eye-catching and futuristic.. My ticket cost me £19 as a concession, while others paid £30. So clearly excellent value for money.
Of course, tickets for home fans, especially season tickets, are a great deal more! Only they can say whether or not they are happy with what they are being asked to pay  and whether they believe the new 'experience' is value for money.
I get the impression it's an arena built with more than an eye on the corporate market, which is fair enough. Is it worth the £1bn price tag and the personal cost to supporters of funding the whole operation? Only time will tell of course.