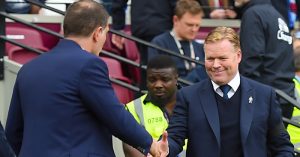 By Sean Whetstone
Everton have parted company with Ronald Koeman today as he became the fall guy for a failed summer transfer policy which left the Toffees side unbalanced for the start of this season.
However, Koeman's recent failure in the transfer market does not make him a bad manager and in my view, Everton's loss could well be West Ham's gain if the board are prepared to pay him what he wants and hire the Dutchman before anyone else does.
Koeman will not claim any long-lasting affection for West Ham, he will not show the passion or the emotion that Bilic shows for the Hammers but he would bring tough love that would bring the club and its squad back into line.
Koeman is a strict disciplinarian who takes no nonsense from players who step out of line or who feel they are bigger than the club.
His training methods are said to be short but intense as he concentrates on developing skills rather than needless hours on a cold training pitch.
It is claimed he could be an ideal good strong man to ruffle feathers after Bilic's more softer approach to players.   At Southampton, Koeman recorded a win ratio of over 48%, Bilic's  is currently at 37% with Billy Bonds holding the best win ratio of any West Ham manager at 43%.
If you take the emotional attachment to Bilic out of the equation then Koeman is an upgrade in my opinion.