By Simon Leyland
Hero worship can be problematic. It makes perfect sense when you are a kid, but it can make you look tragically sad as an adult
Nevertheless, let`s hear it for our favourite, more than slightly bonkers Italian- Paolo Di Canio !
In the four seasons he played for us, he was utterly captivating and most weeks his team-mates were relegated to the roles of interested bystanders as Di Canio went about putting out various fires – and sometimes starting a few along the way.
It is a team game, but he was capable of winning matches on his own, which is why he would take all the corners and free-kicks and why he would sometimes appear in the right-back position demanding the ball, ready to take on every last member of the opposition.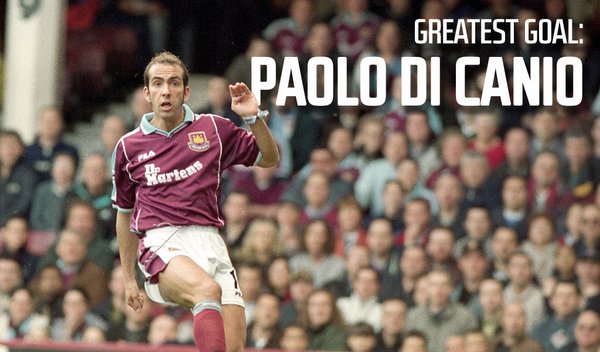 He even took throw-ins and who knows, chopped up the oranges for half time.
Prior to joining us, his time at Hillsborough was brought to an abrupt end after his push on the referee during Wednesday's 1-0 win over Arsenal in September 1998.
Alcock's impression of Bambi on ice earned Di Canio an 11-match ban and was banished to the naughty step.
However, that merely brought out the wheeler-dealer in Harry Redknapp, who could not resist bringing him to the Boleyn Ground for a frankly ridiculous bargain basement fee of £1.5 million.
They hit it off immediately and West Ham were set for nearly four seasons of terrifying lows, dizzying highs and creamy middles, with Di Canio at the centre of everything that was good, bad or indifferent about them. When he played well, they could beat anyone and, he could have run his own goal of the season competition.
He cemented his place in West Ham folklore when Arsenal visited east London in October 1999.
They had beaten us 4-0 earlier but this time they were facing Di Canio on a mission. It was one-way traffic for long periods but then Di Canio collected the ball on the halfway line, from where he proceeded to dribble his way through the Arsenal midfield thanks to a series of ricochets, favourable bounces and limp challenges.
The ball squirted to Sinclair, who dinked it over David Seaman and into the middle, where Paulo Wanchope's knockdown was turned in by Di Canio.
Arsenal laid siege to the West Ham goal in the second half, but Suker remained profligate and Bergkamp had a goal disallowed for a combination of handball and offside, before Wanchope flicked a long clearance from Shaka Hislop to Di Canio with 18 minutes left.
It looked like Di Canio was heading down a dead end, but he turned past Martin Keown with his left foot and then cushioned a splendid shot high past Seaman with his right foot.
"Out! Of! Nothing!" the BBC's Barry Davies yelped and Keown was later seen wandering around Green Street with a confused look on his face, asking for directions back to the stadium.
Yet there were so many moments to cherish: a cracking equaliser in a 1-1 draw with Derby a cracking goal against Derby, a solo effort in a 3-1 win over Leicester City, a bullet off the inside of the post in a 5-0 win over Coventry City and that goal against Chelsea!
Every week, there was something that took the breath away and West Ham struggled when Di Canio was missing.
Controversy was never far away and Di Canio regularly clashed with referees, claiming that they treated him unfairly. He was booked for diving after a blatant trip in the area by Middlesbrough's Gary Pallister and West Ham's 2-0 defeat to Steaua Bucharest in the second round of the Uefa Cup, he was replaced by Joe Cole when West Ham were 1-0 down and it was later claimed that the referee had warned that he was going to send him off if Redknapp did not substitute him.
Di Canio boiled over during a game against Bradford City in February 2000. West Ham were trailing 4-2 to Paul Jewell's strugglers and Di Canio's indignation at seeing another obvious penalty appeal turned down by the referee, Neale Barry, led him to sit down by the side of the pitch imploring Harry to take him off. Whilst sulking, Dean Saunders was busy hitting the post up the other end, wasting the chance to make it 5-2 to Bradford, and Redknapp was beseeching Di Canio to get on with it.
Eventually he roused himself and when Paul Kitson won a penalty for West Ham, Di Canio spied his chance to redeem himself after the miss against Villa. One problem, however – Lampard had grabbed the ball and had decided that he was taking it. He was wrong. After a long, heated and reasonably one-sided debate, Lampard backed off, Di Canio scored and West Ham fought back to win 5-4. Lampard, teed up by Di Canio, scored the winner.
A few weeks later, we played Wimbledon which on the face of it looked like a fixture hardly to get the heart racing.
Then it happened…..
After eight minutes, Marc-Vivien Foé sprayed a pass out to Trevor Sinclair on the right wing. Sinclair took a touch, looked up and pinged a glorious crossfield ball from right to left, over Kenny Cunningham's head, and towards our resident madman who was preparing something; he was up to mischief, a flick had switched in his mind and something special was about to happen. Di Canio was in the air as the ball reached him.
"Sinclair's cross," Martin Tyler, the interest in his voice rising. "Over Cunningham's head. Di CanioOOOOHHHHHIDONOTBELIEVETHAT! That is sensational! Even by his standards!"