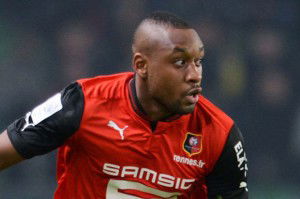 Rennes' central defender Jean Armel Kana Biyik is in talks to join the Hammers according to L'Equipe.
The player recently held talks with Palermo and has been linked with Arsenal, Hull City and Crystal Palace in recent weeks.
Rennes have made it obviously clear that they have no intention of holding onto the player this transfer window after problems early this year. The troubled player was suspended  by his club Rennes after he was involved in confrontations with fans. 
The French Ligue 1 side ordered the player train apart from the first-team squad and the reserves until the end of the season as well as being fined.  Kana-Biyik exchanged insults with some of the club's supporters and was involved in another altercation after training in May this year. It is alleged that Kana-Biyik – whose father Andre and uncle Francois Omam-Biyik played were also Cameroon internationals – stepped out of his vehicle and tried to come to blows with members of Rennes' most prominent ultra group before being held back by security guards.