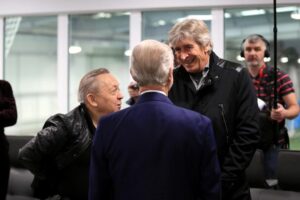 It is easy to blame the manager, the players, the backroom staff, the director of football or the board but it doesn't solve what the actual problem is for West Ham at the moment.
Manuel Pellegrini didn't suddenly become a bad manager overnight,  the squad who were being tipped as challenging for a top-six finish this season didn't suddenly become awful players, blaming the director of football for the summer transfers or the board for lack of investment over the summer also doesn't really cut it in my view.
How did we suddenly become a different team from last season or even a few weeks ago when we were playing full of confidence.
I don't think Pellegrini has lost the dressing room and I believe the players still respect him.
I still think Sebastien Haller and Pablo Fornals will come good eventually and it's unfair to write them off already.
Yes, it was a big gamble to sign a less experienced keeper assuming Fabianksi would stay fit but again I don't think you can lay all the current problems at Roberto's feet.
It's obvious from today that the team lack confidence at the moment and that can become a self-destructive spiral the longer it goes on.
I don't think sacking the manager, the director of football or demanding the board sell up will solve anything.
We all need to do our part as supporters in stopping the blame game.
We expect them to work hard over the International break, then come back and beat Spurs at the London Stadium in a fortnight.
Given time I still believe that the confidence and results will return.