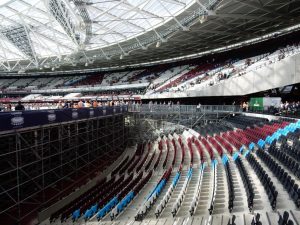 Sky and BT will be working hard to create real atmosphere at the London Stadium should matches resume behind closed doors.
There's has been talk of cut out fans and piped sound effects but with the technology now available expect something a little more sophisticated than that.
The broadcasters have plenty of footage showing Hammers goals being scored and the crowd's reaction which they can beam onto the screen in the stadium and via our TV screens direct.
So the idea that the matches would be shown in a totally silent stadium can be forgotten as the tekkie whizz kids get on with creating the various effects required to give the broadcast as exciting a feel as possible.
It's a given that for home games footage of Hammers fans singing Bubbles would be used and with opposition goals available from their library  those , goal attempts and attacking build up play could be built into the coverage.
A well placed Hammers source said: " The technology is available to ensure the game is presented in the best possible way for TV."