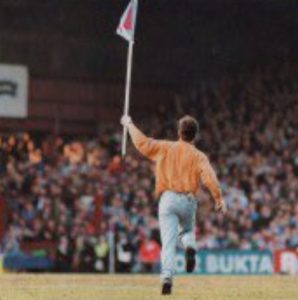 The removal of the corner flag and running to the circle was a homage to the 1992 protest against the West Ham Bond Scheme.
At a home game against Everton in February in 1992, a West Ham fan climbed out of the old South Bank terraces at the Boleyn Ground, grabbed a corner flag and marched slowly to the centre circle. He then planted it in the centre spot before sitting down, daring anybody to move him.
A picture from the time below shows Martin Allen and Julian Dicks pleading with the Hammers fan to leave the pitch. Instead, hundreds more poured on to the Boleyn Ground pitch against the board's plans to make people pay for the right to buy their season ticket by purchasing a Bond first.
The supporter at the London Stadium on Saturday attempted to replicate that same one-man protest. In the Directors box for both of those games, twenty-six years apart is Terry Brown previously the West Ham chairman throughout the Bond scheme and now a minority shareholder always in the box.
The latest 2018 corner flag pitch invader has been described as a supporter of more than 40 years both home and away.
The 1992 protest began went West Ham went two nil down against Everton in front of 21,000 fans and the Hammers were relegated that season from Division 1 to Division 1.  Is this history repeating itself?  Could it be the same person?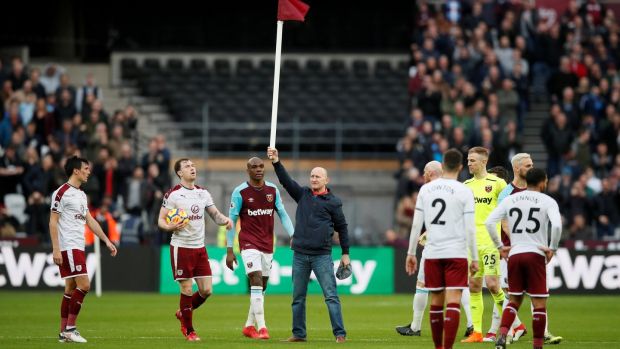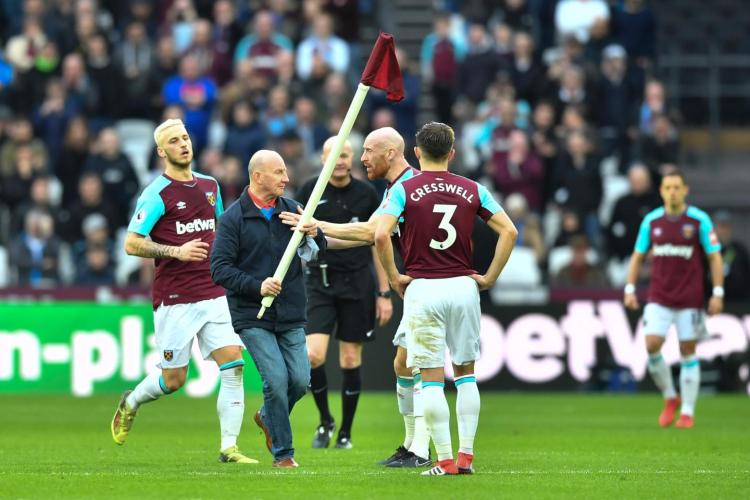 Credit to Nigel Kahn for the 1992 photos and video