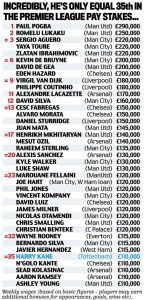 Two Hammers earn more than Spurs inform Striker Harry Kane a new list of the Premier League highest earners has revealed.
Joe Hart currently the Hammers No.2 keeper earns £120,000 per week basic wage while striker Javier Hernandez earns a basic of £115,000 per week compared to Kane's £110,000 per week. Another West Ham bench warmer Andy Carroll is reported to earn £90,000 per week as the Hammers third biggest earner.
The list of the highest earners in the Premier League shows Paul Pogba is the highest wage earner at £290,000 per week followed by Romelu Lukaku on £250,000 per week and tied third place of Aguero, Toure and Ibrahimovic all on £220,000 per week.
Joe Hart is the joint 23rd earner in the league with likes of Fellaini, Kompany, Luiz and Benteke while Hernandez is the joint 32nd highest earner along with Wayne Rooney and Bernardo Silva.