The Daily Mail is reporting that two Hammers fans have been hospitalised after an attack by Eintracht Frankfurt fans.
There were reports on Wednesday claiming that an Irons fan had been taken to hospital.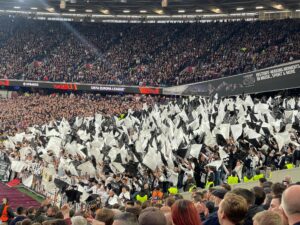 And the Mail now claims that two Hammers fans were victims of an assault on Wednesday evening and have subsequently spent the night at the local medical facility.
The two men are said to have been ambushed by a group of over 50 Frankfurt fans, as they walked along a street at around 6:30pm.
The 50 people are said to have mostly been wearing masks, and police have claimed that they are "ashamed" of the vicious attack, which appears to have been entirely unprovoked.
Over 30 people have been arrested and held in custody overnight, with German fans forming the majority of those detained.
There will be a major police presence surrounding tonight's semi-final second leg in the Europa League, with the Irons aiming to overturn a 2-1 deficit.