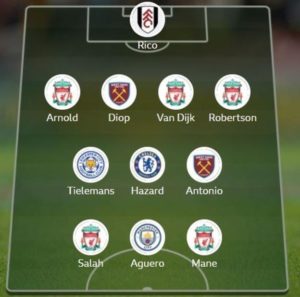 Two West Ham players made this Garth Crooks' BBC team of the week.
Crooks singled out Issa Diop and Michail Antonio for their performances against Spurs.
Crooks told BBC website readers:
Issa Diop: I saw this lad play brilliantly away at Everton earlier in the season and I knew then that Diop could defend. What I saw at Tottenham Hotspur Stadium was a defender who not only took on the responsibility at key moments but read the game beautifully.
I also thought Ryan Fredericks was impressive against his old club and that brings me to my central point. If West Ham approached every game as though they were playing Tottenham Hotspur, they would win the Premier League title. What is it with these London clubs. Why do they hate Tottenham so much?
Did you know? Diop made more clearances (8), interceptions (6) and blocks (3) than any other West Ham player in their 1-0 win over Tottenham.
Michail Antonio: This is a player who has a lot of ability, who is strong as an ox and can score goals with his feet and head.
West Ham's Antonio appeared to be the perfect foil for Marko Arnautovic and I'm not entirely sure why it's taken manager Manuel Pellegrini so long to discover this bourgeoning double act.
Tottenham couldn't cope with Antonio running in behind their back four to devastating effect. It's so refreshing to see a team prepared to play the long ball game instead of this continuous tippy-tappy nonsense. A word of advice for Antonio – keep scoring the goals, dump the celebration.
Did you know? As well as scoring the winner against Tottenham, no West Ham player had more shots (4) or shots on target (2) than Antonio.