Pablo Zabaleta and Marko Arnautovic have been named in Garth Crooks' Premier League Team of the Week!
The Hammers beat Watford 2-0 on Saturday and impressed pundit Crooks, who names his Team of the Week for the BBC every Sunday.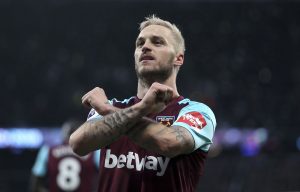 Zabaleta features in a three-man defence for Crooks, with Arnie on the left wing!
On the Argentine, he said: "Zabaleta's days at Manchester City are gone, but this seasoned professional still has a lot left in the tank.
"Against the much younger Richarlison, Zabaleta had this young pup in his pocket for much of the game. The Argentine was rock solid against a player who has proved to be very dangerous on occasions this season."
And he was equally effusive in his praise of the Austrian, adding: "All players want to be liked, and Marko Arnautovic is no different.
"Fans tend not to like Arnautovic because he has the ability to embarrass the opposition. Arnautovic is moody, unpredictable, passionate and exciting all at the same time.
"Some of that we witnessed against Watford, and to top it all he can, on any given day, cause the opposition great embarrassment. Ask former Stoke boss Mark Hughes."