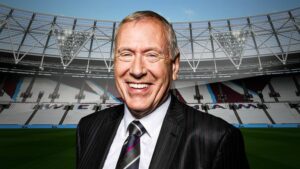 Sky commentator Martin Tyler has savaged the London Stadium in a Sky Sports feature.
Describing what it is like to commentate there Tyler says "It is by far the most challenging commentary assignment in the Premier League because this is not a purpose-built football ground. The broadcast position is almost as far from the near touchline as it is from the far in most English stadia. In practice it is ok, but there is an extra element of satisfaction at the final whistle if you have called the action acceptably."
Tyler says he likes the Stadium as an Athletics stadium but not as a football ground by telling Sky viewers.
"As a sporting venue, it is splendid. I was lucky enough to get tickets for my son and myself for a track-and-field evening at the Olympics. It was a brilliant experience.
From West Ham's point of view, I do understand the economics, but for those of us with a long history of working and watching at Upton Park, the contrast will always be in the negative. A running track hinders the view of anyone who attends a football match in such a multi-purpose stadium, not just broadcasters."
Claret and Hugh say:
It is interesting that Tyler waits until now to put the boot into the London Stadium.  With Sky having a  complete lack of content they have decided to do a series taking about football stadia up and down the land. As they say, controversy sells in the media business and his words are more for effect and something interesting to say from the comfort of his own home. After forty days with no football, most supporters do not have a care in the world about running track, sightlines or facilities, they just want to watch footie return, even it is is played over Hackney marshes with jumpers for goalposts.