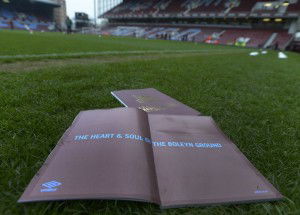 Umbro has finally published the advert in a large format to allow season ticket holders to find their own names on WHUFC.com this afternoon.
Umbro gave in to fan pressure to publish a big version of their advert which featured in the last Hammers programme at the Boleyn Ground which contains the names of over 26,000 season ticket holders.
West Ham fan, Mark Walker started an online petition to pressure Umbro to publish a large version of the image and in return the kit maker challenged him to "Get 1,000 signatures and we will talk"
Umbro tweeted this afternoon "CHALLENGE: Download the PDF and zoom in to find your name  Thanks to @whufc_official for hosting the advert on http://whufc.com !  Farewell Boleyn. Our ad from @whufc_official's final game is available here"
You can view the advert with readable names at http://www.whufc.com/Fans/Hammers-Downloads
Let us know if you find your name or if you think your name is missing.