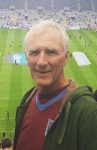 By Allen Cummings
It's always a bit special ,a bit tasty when we entertain Manchester United. The 'Mancs' from the red side of Manchester seem to stir the emotions, both on and off the pitch, like few other visitors.
It's always a game to look out for when the fixtures are first published, a chance to upset the so called aristocrats of English football. This season United's visit to the London Stadium was originally scheduled for Saturday 17th March.
But an FA Cup commitment for United – at the time making their way to Wembley, forced a postponement. But in one of those uncanny twists of football fate the new date allocated suddenly gave this game even more significance.
Thursday 10th May will be exactly two years to the day since that unforgettable night when we said goodbye to the Boleyn in a dramatic finale. Coming from behind to beat the Reds 3-2.
The emotion of that night can never be repeated but the feeling of relief now being felt around the club, after our Premier League status has finally been secured, could just provide the freedom and impetus for a performance fit for the occasion.
A game that seven days ago many of us were probably dreading has suddenly become 90 minutes to really look forward to. Much has been made of David Moyes' preference to put caution before attack, particularly at home. It hasn't exactly endeared him to some.
His argument would be circumstances dictated his tactics. But the overwhelming need for that approach has gone now. Finally Moyes can allow his side to be more expressive. More adventurous. Without the consequences of failure hanging over him. There's a real opportunity here to play with more flair. More drive. Put United under the kind of pressure they are unlikely to relish with one eye on Wembley in 10 days time.
Two years ago the desire to say goodbye with a rousing victory was overpowering. It was tangible. You could touch it in all corners of the ground. We don't have 'corners' now, as some will be quick to point out.
The London Stadium has come in for criticism, unfairly in my opinion, for lacking atmosphere. Yet against the likes of Chelsea and Spurs in particular, we've shown we can get the whole place rocking.
Here's another chance to show what we can do, how we can be as intimidating to the opposition as we always used to be. It's the first home game in ages, possibly the whole season, where the pressure has been off.
Moyes is in a position to deliver to his players that mythical football manager's message "go out and enjoy yourselves". They can play with a smile on their faces. Show us a style and a performance that will do justice to a date and a game that none of us will ever forget.