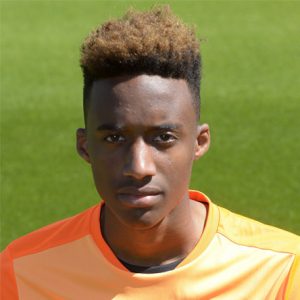 The under 23s battled to a draw at Barnet against a team packed with Leaugue Two performers.
It was a challenging encounter for the youngsters at The Hive and that they scrapped their way to a draw ensures they remain unbeaten in four pre-season clashes.
Nathan Holland had the best chance from open play but his fierce drive from close in was very well saved.
The hosts had a goal ruled out for offside in the first half before Jahmal Hector-Ingram saw an effort fly over from inside the box. The striker won a penalty on 34 minutes but Scully's spot kick was well saved by Barnet's Mark Cousins.
Sam Byram then found himself with plenty of space on the right but although his ball into the area was met by Holland his six yard shot drew another fine save.
Young Hammers keeper Nathan Trott (right) was called on to make a top save when Dave Tarpey found himself one-on-one with the young Hammer.
Trott again keep the game level with a fingertip stop after Barnet came close with a corner routine. The 19-year-old was also called on with just ten minutes to go, palming away a sweeping effort.
Hammers: Trott; Byram, Akinola (Alese 75'), Oxford, Johnson (Barrett 55'); Lewis, Coventry (Giddings 79'), Belic, Scully (Spyrides 74'), Hector-Ingram (Greenidge 84'), Holland