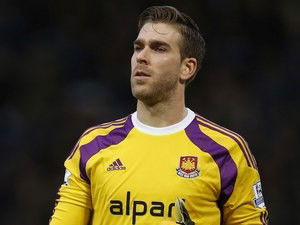 Unhappy Adrian is looking for a move out of West Ham after being almost totally overlooked since Joe Hart's arrival on loan.
The 30-year-old is desperately fed up and has told  Radio Marca in Spain that he needs to move elsewhere after only making two appearances for the club in the Carabao Cup this season.
Darren Randolph revealed when leaving for Middlesbrough that he and the Spaniard had raced to see who could be the first one out of the club when Hart arrived.
And Adrian – long linked with a move to Palace in the summer – has now broken his silence and made it clear he wants out.
He is  still eyeing a call-up to the Spain squad and now seems more than ready to leave the East End to put himself in the international frame if he gets the chance.
He said: The coach is not giving me much ball this year, but the data is there. It only remains to fight.
"Without playing, I repeat the call with the Spanish team disappears.
"The market will be reopened and an agreement must be reached because I am not happy in this situation.
"Try other leagues? I would not mind. I want to enjoy every Sunday and that is achieved by playing."