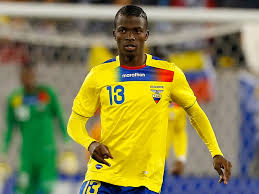 West Ham are expecting Ecuadorian striker target Ennar Valencia to arrive in London tomorrow for talks.
As ClaretandHugh reported earlier in the day, the £12 million midfielder/striker target was believed to be on his way to London yesterday.
But a source explained to us that the player had failed to appear and although they didn't suspect anything sinister there was never any certainties in these circumstances.
However we have learned over the last few minutes that Valencia is hoping to organise a flight to London.
We  were told exclusively: "He's in a part of the  world where flights are few and far between but we expect him to be in London tomorrow.
Jesus Martinez, President of his club Pachuca, confirmed that should Valencia leave it will be for the highest fee ever received for a player in the Mexican League.
Valencia netted 18 times in 23 games for Pachuca last season and grabbed three in the World cup -two against Honduras and one against Switzerland.
Follow on Twitter @hughsouthon