The only problem Andy Carroll is having right now is wiping the smile off his face!
Another goal – his third of the season – and another win against Liverpool had him saying after the match: "That's two back-to-back wins which is fantastic and two goals for me, which is obviously even better for me personally.
"It's nice that the manager was pleased with my performance. I put a shift in and so did all the lads and he's just delighted with the three points, as is everyone.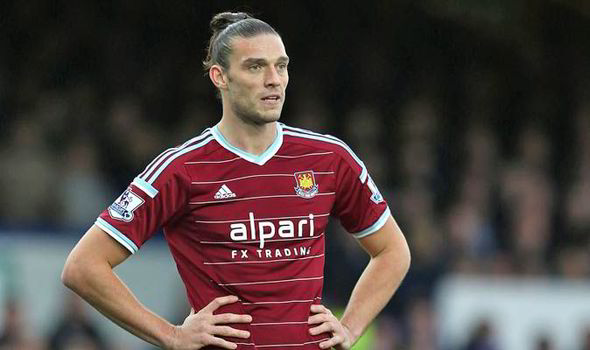 He added: "I got another 90 minutes under my belt and it's much better than training. You can only get match-fitness through games and I'm feeling good.
"Obviously some of the other lads are coming back and getting the match minutes they need, like Dimitri did with 30 minutes, so that's great for him as well."
AC's goal came when he rose above the Reds defence and teammate Enner Valencia, who made himself scarce as the big man powered his header past Simon Mignolet.
Carroll said: "We had a laugh about it in the dressing room after! I called for it and he knew I was there and he got out the way, or else he was going to get clattered! It was obviously better for him that he got out the way and we got the goal!
"Michail finds himself in great positions and we were saying 'How does he end up there?' because he shouldn't even have been there, but the he found himself in a great position and it was a thunderbolt of a header."
"We're a very good team. We've got a lot of good players coming back from injury and even when they were injured we weren't losing games. We were drawing and being unlucky, because we could have nicked them.
"The squad is great, the manager is great and the staff are great, and everyone's enjoying it and that's the most important thing.
"Everyone is just looking at the next game. There is so much talk about the league table but we just focus on the next game. The manager keeps us grounded and looking at the next opponents and that's what we've been doing.
"It's very exciting. Obviously 2016 is the last year in this ground. Moving to a massive stadium in the summer is exciting times for the Club and all the lads."