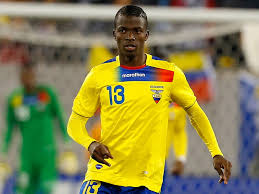 West Ham's Enner Valencia and Ecuador were knocked out of the Copa America quarter final last night by USA last night in Seattle. USA triumphed 2-1 despite Valencia featuring for the full ninety minutes but he could not find the net on this occasion.  At one point Valencia was bought down in the penalty area but the West Ham forward got straight to his feet and the referee did not give the spot-kick.
Reports say Valencia should have scored at least twice from close range headers in the second but it was it was his fellow team mate Arroyo who cut the lead after the 73rd minute.
The West Ham forward scored two goals and made two assists for Ecuador in the  Copa America tournament in recent weeks.
Valencia has been linked with a move to the Spanish La Liga and German Bundesliga in recent days as well as supposed interest from Premier LEague rivals West Brom and Manchester City.
FIFA TV released this video of Enner Valencia yesterday.