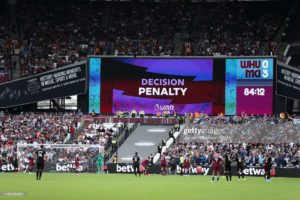 Be careful what you wish for as David Gold often says.
Well, I was one of the supporters who thought VAR was a good idea and called for its introduction to the Premier League.
I know it is early days but the first game was sploit for me at the London Stadium and the technology seems to favor those watching from home and not at the ground.
Muted goal celebrations by City fans not knowing if a goal would stand, secondary quieter celebrations when the goal was given and waiting ages for a decision from Stockley Park damaged the atmosphere and general flow of the game.
The biggest cheer from West Ham supporters came as Man City's goal was disallowed and the biggest groan of the afternoon was VAR's decision to disallow Fabianski's save.
Fans in the ground got little of the promised evidence those at home enjoyed, we had to rely on basic Premier League graphics on the big screens and were shown only one still image of the disallowed goal but other off-side decision images were not shown despite being promised.
Probably the biggest confusion at the ground was why Man City's penalty had to be re-taken, we had all assumed that the goalkeeper moved off his line only to find out later that it was Declan Rice encroachment.
With limited mobile signal and no Wi-Fi, it is so difficult to understand what is going on and it must be improved to avoid fans in the ground turning against VAR.
A recent study analysed every major decision last season and it resulted in West Ham finishing ninth instead of tenth, I do wonder whether it worth the hassle.