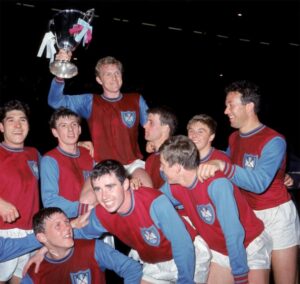 The 1965 European Cup Winners' Cup Final was won by West Ham 55 ago today!
The final was between West Ham United of England and 1860 Munich of West Germany. The final was held at Wembley Stadium in London on 19 May 1965. It was the final match of the 1964–65 European Cup Winners' Cup and the fifth European Cup Winners' Cup final since the competition's inception.
West Ham began the game brightly, but despite chances at both ends, there was no score at half-time. The breakthrough came in the 70th minute when Ronnie Boyce threaded a pass between two defenders and Alan Sealey scored from a difficult angle. Two minutes later, a free-kick to West Ham was not cleared; Bobby Moore crossed the ball, Radenkovic failed to collect the ball and Sealey scored a second goal to seal the match for West Ham.
West Ham Team: Jim Standen, Joe Kirkup, Jack Burkett, Martin Peters, Ken Brown, Bobby Moore (c), Alan Sealey, Ron Boyce, Geoff Hurst, Brian Dear, John Sissons  Manager: Ron Greenwood