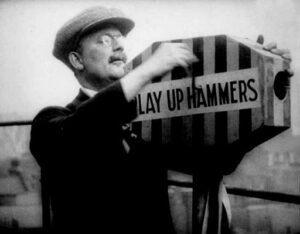 Today marks the start of a five day series celebrating the five FA cup finals West Ham have played in. Today it is the 1923 FA cup final but over the next four days we will show the full matches for the 1964, 1975, 1980 and 2006 final games.
The 1923 FA Cup Final between Bolton Wanderers and West Ham United on 28 April 1923 at the original Wembley Stadium in London. The showpiece match of English football's primary cup competition, the Football Association Challenge Cup (better known as the FA Cup), it was the first football match to be played at Wembley Stadium. King George V was in attendance to present the trophy to the winning team.
Each team had progressed through five rounds to reach the final. Bolton Wanderers won 1–0 in every round from the third onwards, and David Jack scored the lone goal each time. West Ham United faced opposition from the Second Division or lower in each round, the first time this had occurred since the introduction of multiple divisions in the Football League. West Ham took three attempts to defeat Southampton in the fourth round but then easily defeated Derby County in the semi-final, scoring five goals.
The final was preceded by chaotic scenes as vast crowds surged into the stadium, far exceeding its official capacity of approximately 125,000. A crowd estimated at up to 300,000 gained entrance and the terraces overflowed, with the result that spectators found their way into the area around the pitch and even onto the playing area itself. Mounted policemen, including one on a light-coloured horse which became the defining image of the day, had to be brought in to clear the crowds from the pitch and allow the match to take place. The match began 45 minutes late as crowds stood around the perimeter of the pitch. Although West Ham started strongly, Bolton proved the dominant team for most of the match and won 2–0. David Jack scored a goal two minutes after the start of the match and Jack Smith added a controversial second goal during the second half. The pre-match events prompted discussion in the House of Commons and led to the introduction of safety measures for future finals. The match is often referred to as the "White Horse Final" and is commemorated by the White Horse Bridge at the new Wembley Stadium.