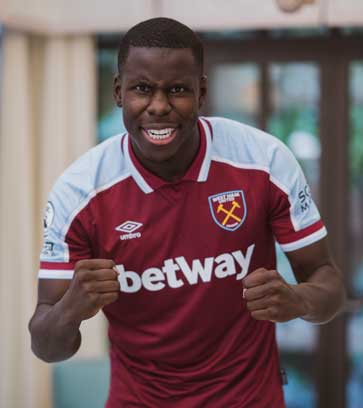 Its International week so we will bring you some information on West Ham's four new signings with a video to show off their skills.  We start with Kurt Zouma!
Kurt Zouma joins the Hammers with 13 career goals and a wealth of experience including 165 Premier League appearances and 8 international appearances with his native France.
Our new number 4 has won 2 Premier League titles, 1 UEFA Champions League, 1 UEFA Super Cup and 1 League Cup. Before moving to England, he was also part of the Saint-Etienne team to win the French League Cup.
Kurt Happy Zouma's name was no coincidence – it all stemmed from 1989 martial arts movie Kickboxer, starring Jean-Claude Van Damme!
Centred on the Van Damme's character 'Kurt Sloane', who trains in the ancient kickboxing art of Muay Thai during the film, Zouma's parents noted the name. His father said: "We're going to call him Kurt, because he will be strong" – to which his mother replied: "He will be happy too, so we will call him Happy"!
Zouma himself said the description is "quite accurate"!
Kurt Zouma was born in Lyon to parents who immigrated from the Central African Republic at an early age. Looking to make ends meet, his father worked at Ikea in between driving him to training and matches, while his mother was a cleaner.
Zouma has five brothers and a little sister. Two of those brothers have also gone on to play professional football: Yoan Zouma is a defender who last played for Bolton Wanderers, for whom he made a professional debut in 2019, as well as Barrow and Altrincham.
Lionel Zouma, meanwhile, is a fellow centre-back who currently represents Vevey United in the Swiss sixth tier after previous spells in France (with Sochaux, where he once played against Kurt!) and Greece (with Asteras Tripolis).