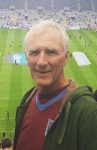 CandH blogger Allen Cummings remembers the night when Gordon Banks – whose death was announced today – shattered the dreams of us all who were gathered into Upton Park back in 1972
He was the rock upon which Sir Alf Ramsey built that never-to-be-forgotten World Cup winning side in 1966.
But it was Gordon's save from the legendary Pele four years later in the 1970 World Cup that is still regarded by many as the greatest save ever.
Like so many watching the game that day, I couldn't believe my eyes at the magnificence of the great man's reflexes and agility. It was phenomenal! Almost two years later, I was to experience a very different emotion at another unbelievable Banks' save.
That particular night in December 1971 he broke my heart, as well as the hearts of every other West Ham fan in the highly charged atmosphere of an expectant Upton Park.
There were over 38,000 in the ground for our League Cup Semi-Final second leg against Stoke City. Already leading the tie 2-1 from the first leg, courtesy of goals from Geoff Hurst (pen) and Clyde Best, we were all set to finish the job and book our place at Wembley.
But a goal from Paul Ritichie levelled the scores and took the tie into extra time. Then, with only minutes remaining, we were awarded a penalty. Geoff Hurst rarely missed from the spot. He'd already proved that at the Victoria Ground, so this was going to be it! A certain goal – or so we thought.
Hursty powered up, and with cheeks typically puffed let fly with that reliable left foot thunderbolt. A goal surely. But Banks had other ideas. He stood firm and somehow took the full force of the shot and parried it over the bar! Upton Park fell silent. We couldn't believe what we'd just seen.
History records Stoke went on to win at the second replay – and eventually took the trophy at Wembley. The trophy we believed could have been ours – and probably would have been if it hadn't been for Gordon Banks.