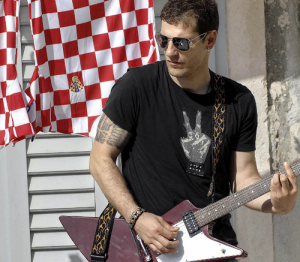 Slaven is a rocker!
West Ham's new manager describes music as utterly essential to his life and proves it here with his band Rawbau.
He's a bit of a hero on rhythm guitar and is a man of many parts as a qualified lawyer and committed Socialist politically.
Football however, is his first love and one of his most famous quotes is: "With the reatest respect to women, football is the most beautiful thing in the world!
Outside of the game Bilic is fluent in German, Italian and English and holds a degree in law but his passion for music is demonstrated in our video.
He plays a red Gibson Explorer on "Vatreno Ludilo" ("Fiery Madness") for the Croatian national team at Euro 2008. His love for music extends into the locker room as well, where he encourages players to listen to inspirational music before games.
At the end of 2004. they recorded their album:"Rawbau", with 10 songs. Before Rawbau, Bilic played in the group NewEra.