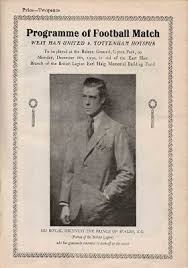 A little bit about West Ham royal history while we remain on lockdown.
The Prince of Wales – the future Edward VIII – was the guest of honour at a London derby held between West Ham and Spurs in 1930.
The friendly match between the Hammers and Spurs was played in aid of the East Ham Branch of the British Legion Earl Haig Memorial Building Fund. His Royal Highness the Prince of Wales attended as Patron of the British Legion and afterwards visited the Dockland Settlement at Canning Town.
The teams that afternoon on Monday, December 8th 1930 were:
West Ham United: Dixon, Earl, Wade, Collins, Barrett, Cadwell, Yews, Earle, V. Gibbins, James, Ruffell.
Tottenham Hotspur: Spiers, Lyons, Hodgkin-son, Skitt, Messer, Meads, Davies, O'Caliaghan, Harper, Cook, Dimmock.
Other distinguished visitors, including Admiral of the Fleet Earl Jellicoe (who presented the medals) and General Sir Ian Hamilton with £340 raised for Royal Legion.
Background provided by Steve Marsh's They Fly So High says 'There was community singing conducted by Mr "Bill" Runnicles – including "God bless the Prince of Wales" and war-time songs. That was followed by the "K" Division Metropolitan Police Band with half-a-dozen items (including "There's a Good Time coming",) plus "a musicial programme arranged by Audible Advertising Limited"; the latter included selections from His Master's Voice Records, among which was "The Whistler and His Dog,"
Below is a video of the day from Nigel Kahn's West Ham Youtube account Reel of History
It wasn't the first time the British royalty had watched the Hammers as King George V watched the 1923 FA Cup final at the newly built Wembley Stadium where he presented the trophy to Bolton after they beat West Ham 2-0.
In more modern times West Ham United received a Royal seal of approval in 2002 when Her Royal Highness Queen Elizabeth II  who said to be Hammers fan opened the new Dr Martens Stand at the Boleyn Ground. In 2003 it was her son Prince Andrew, president of the Football Association who unveiled the Champions statue on the corner of Green Street and Barking Road.
While in 2017 her grandsons visited West Ham when William, Kate and Harry attended an award ceremony hosted by Karren Brady for sports apprenticeships.