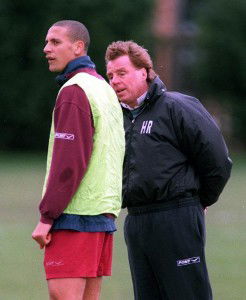 West Ham supporter Robert Banks, author of a number of Hammers book including An Irrational Hatred of Luton has uploaded the 1995/1996  season review to Youtube this week.
West Ham progressed further following the previous season's 14th-place finish (and last-minute scramble away from relegation danger) and climbed to 10th place in the final table – their best finish since they came third in 1986. They were never in any danger of going down, but they never looked like challenging for a UEFA Cup spot. Nor did they make much of an impact in the cup competitions, though striker Tony Cottee showed little sign of his advancing years, coming joint top scorer with penalty taking left-back Julian Dicks.
Manager Harry Redknapp spent heavily over the summer, mostly on foreign players, in hope of building a West Ham side capable of chasing European qualification and major trophies.
The season also brought the debut of two teenage players – defender Rio Ferdinand and midfielder Frank Lampard.