By Hughie Southon
So Palace have today sacked Patrick Viera while David Moyes remains in charge at West Ham!
Two London clubs – one of which in the south of the capital the Hammers considering owning after Birmingham City – have very different attitudes towards how to handle the threat of relegation.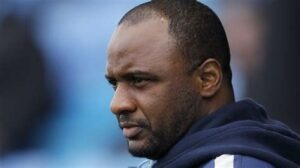 Both clubs share a similar Premier League record this season. Palace sit in 12th place with 27 points having won six games, drawn nine and lost 12 whilst the Irons  have themselves won six, drawn six and lost 14.
Palace, meanwhile. are tumbling down the table of late having lost seven and drawn five of their last dozen games whilst we have won two, drawn four and lost six.
Palace clearly feel that with a dozen games left a new head coach can turn things around, the Hammers claim there is nobody available.
It is going to be an interesting few days as we learn who Palace chairman appoints to the job with Under-21s boss Paddy McCarthy taking charge for Sunday's visit to leaders Arsenal on Sunday.
So who has got it right and I wonder about 46 year old Viera and the Hammers given the former Arsenal star is an attack minded boss who led Palace to a 12th placed finish last season.
Interesting if worrying times!