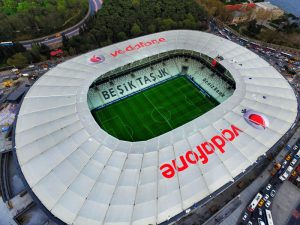 Vodafone plans to transform the technology available in the London Stadium if it concludes a six-year £20m naming rights deal for the former Olympic Stadium.
The LLDC and Vodafone are locked in talks to strike a deal before the kick-off of the new season in September but the deal will average £3.3m per year which is under the £4m threshold to share revenue with West Ham. The Hammers share 45% of any deal over £4m per year which drops down to 35% if they are relegated out of the Premier League. Vodafone is thought to be insisting on a relegation clause reducing the amount they pay for naming rights if We suffer relegation during their twenty-year term.
Vodafone is planning leverage the power of the Internet of Things (IoT) technology to develop better-connected stadia for sports fans across Europe and the Middle East as part of a wider strategy.
In Turkey, senior executives from Vodafone Qatar, Vodafone Turkey and Turkish football club Besiktas JK signed a memorandum of understanding (MoU) designed to accelerate the transfer of knowledge, expertise and technological know-how from Turkey's first smart-stadium, the Vodafone Arena.
During a match played at Vodafone Arena, nearly 12,000 people used a total of 413 GB data through Vodafone SuperNet 4.5G with speeds up to 150 Gbps, and about 7,000 people used a total of 785 GB data through Vodafone SuperNet Wi-Fi with speeds up to 300 Gbps. The figures highlight how around the world, football fans are becoming increasingly digital and expect greater levels of connectivity as more and more people take to social media to post during games.
Whether we like it or not such technologies are set to become a fundamentally important element in the infrastructure/stadia and venues being built for football.
At every home game played by Turkish Super League side, Besiktas JK, more than 40,000 fans have access to Wi-Fi, 2G, 3G, and 4.5G ready broadband network connections, rich-content displays on the 850 video walls, and Vodafone Arena mobile application, as well as interactive HD screens that broadcast all the content that fans dream of – including interviews, match statistics and live updates on other games. Moreover, spectators and visitors on match days are offered an end-to end digital experience. Visitors are offered premium comfort during match days through location-based services based on Beacon technology that will be in use starting from the next season.
Vodafone is thought to keen to use the Besiktas model at the London Stadium from next season with free Wifi for all and super-fast data connections for Vodafone customers in the stadium.
With EE the primary sponsor for Wembley Stadium and O2 the primary sponsor for the former Millennium Dome the naming rights deal for the London Stadium makes sense to showcase their technology for up to 66,000 supporters.