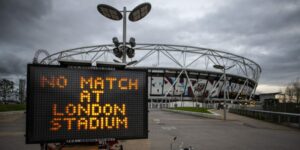 According to a report by Sky Sports Premier League clubs have been warned by the FA that the 2019/20 season must be decided on sporting merit ruling out the possibility of the season being declared null and void.
Whichever way Premier League clubs vote on how to proceed, the future must include promotion and relegation, clubs were told today.
The idea of the season being null-and-voided was officially ruled out by an FA intervention at a teleconference meeting of Premier League executives on Monday the report claims.
With the report that twelve clubs oppose playing behind closed doors time is running out for Project restart.
No votes were taken today and they have kicked the can down the road to next week yet again.
Should the remaining fixtures not be completed that it likely that a Points Per Game system will be used to calculate the final positions including relegation places. West Ham will be hoping they decide on the French model of straight points per game which will mean West Ham finish 16th, a weighed points per game method favored by the EFL and seen as fairer would relegate West Ham and save Bournemouth with the Hammers relegated by just 0.2 points.