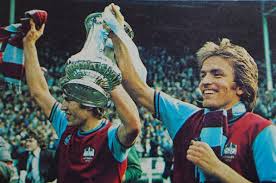 Amid all the disaster and misery I nearly forgot to mention one of the most memorable moments of the season arrives on our screens tomorrow evening (Monday)
For all our current misery the 3rd round FA Cup draw remains one of those magical moments.
As we look for  more intensity on the training pitch and a few returning from injury tomorrow we will be beaning in on BBC 2..
Please, not Manchester United away or Everton and Lukaku anywhere. Indeed we can even do without anyone such as Accrington Stanley given how we struggled when they arrived at the London Stadium in the EFL Cup.
Slaven, however, has made it clear that he was brave as a defender and as a manager and believes he will be around for the club's entry into the competition.
He admits he's feeling pressure but can cope. He said he simply wants to stop feeling the way he does at the moment so hopefully there will be something to make him feel a bit better tomorrow evening.
We are Ball No 42 and the draw will be made by ex Hammer Ian Wright and Steven Gerrard on BBC 2  at 7pm.