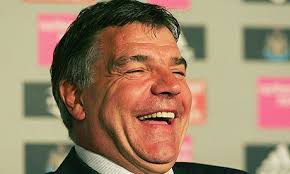 West Ham 3 Liverpool 1
MATCH VERDICT
By Hugh Southon
I received a text and a phone call within minutes of the whistle blowing on a victory which will live long in the memory.
The text read: "I have got my team back – that was quite magnificent."
The phone call was even more emotional with a very familiar voice saying: "We were all crying at the end…this was the West Ham we know and love but which we thought we had lost forever."
Then came another phone call from a non West Ham supporter who had watched the game on TV and who had something seriously significant to say.
"What a game…what a so and so game – the type of game which even if you lose you leave the ground with a smile on your face," he said.
And in that one sentence I realised that Sam Allardyce – albeit a lot later in the day than we would have wanted – had discovered the 'West Ham Way.'
Nobody wants to lose but it becomes acceptable if we have given it everything, played great football and entertained – this afternoon we had all of that and WON.
It was a mighty victory – one of our top performances for many a long day and we can move on to Old Trafford next weekend not in fear but even with hope in our hearts.
Nine players is an awful lot to bring in during the course of a summer but amazingly they are bedding down even quicker than the manager would have expected.
Enner Valencia and Diafra Sakho already look as though they have been playing together for a long time rather than just 180 minutes.
Stewart Downing is becoming the player many have have claimed for a long time that he can become.
And in Alex Song we have a world class player who can defend for his life bringing overwhelming confidence to his back four, whilst also becoming a serious creative force when he moves forward.
This was an awesome performance and it was master-minded by a manager who has caused great division during his time here.
Those who have opposed Sam Allardyce need not apologise for that position as for too long the football we have seen has been totally shocking.
But those of us who have been on that side of the fence must put our hands in the air and and congratulate him on a performance the like of which we haven't seen in many a long year.
If  West Ham continue in this manner Sam Allardyce will become one of most popular managers ever.
Time will tell but I can't remember when the signs have been more promising – WE HAVE OUR WEST HAM BACK!