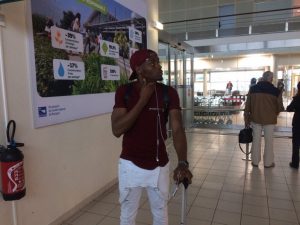 So we know from David Gold and David Sullivan that they have no intention of selling Diafra Sakho and plan to resist offers for him.
For that to happen West Ham supporters, and for him to have a way back, we all need to accept he was most likely badly advised to skip training and travel to France in attempt to force a move.
If we are just going to demonise him, abuse him on social media or boo him when he plays we might as well let him go now is my personal opinion.
His personal problems are well known, he has a daughter from his previous partner in Metz with limited access and another daughter from another former girlfriend in the UK.
He has been arrested on an assault charge which was later dropped and he crashed his Lamborghini sports car in a wall.  Last year he went AWOL just before a scheduled appearance at Lakeside shopping citing personal problems.
We all know his personal problems and this would be like his fifth chance but deep down he is still a great talent who deserves once last chance to repay our faith and loyalty in him in my book.
I for one won't be joining the group of Sakho haters.