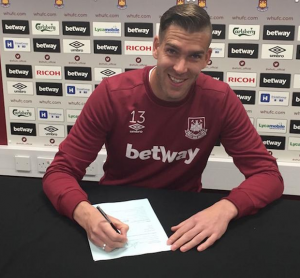 These are troubled times at the old club but those who have been on the dark side for a few years or more will probably be muttering "What's new?"
Let's focus on something else briefly. Let's look at a player who for me is – as he was in difficult times last season – a shining example of professionalism and commitment to his club.
I can't be talking about anyone else but Adrian can I?
Last season he had play second fiddle to now-departed Darren Randolph for months before coming back to play a crucial role in the team's revival.
This season he is sitting waiting patiently for a chance whilst Joe Hart turns in performances best described as average for his loan club and country.
It's an open secret that Palace were keen and that Adrian was desperate for first team football in the build up to the World Cup to give himself a chance of making the Spain squad.
But when he was told – soon after signing a new deal – that it wasn't going to happen he simply settled down as top pros do and got on with it. Not a word out of place, just a determination to make what looks a bleak situation work.
Even Darren Randolph – soon after the move to Middlesbrough – couldn't help himself talking about the two of them rushing to get out first when they knew Hart was on his way. Adrian said absolutely nothing.
This is the way top people act and in the last few days when so many have been mouthing off about everything and everybody, Adrian serves as a great example perhaps of how people should conduct themselves.
I think he's a top bloke and keeper, probably Hart's equal as things stand… I hope he gets his chances very soon!
COYI