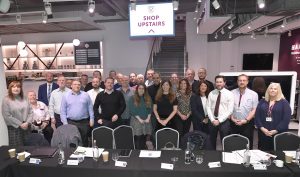 Last year Claret and Hugh were selected by an independent panel to sit on the new West Ham United Official Supporters Board (WHUOSB) to represent our 96,886 registered website members who frequently use www.claretandhugh.info. 
Associate editor Sean Whetstone attended the first meeting organised by the club in the club store at the London Stadium on 29th November last year to represent the Claret and Hugh community.
With the next WHUOSB scheduled in February, we would like to hear from Claret and Hugh readers about the issues that frustrate you most.  Whether it be the stadium catering, matchday experience, stewarding, ticketing or merchandise to name such a few examples please drop us a line.
Claret and Hugh now have a dedicated Email address for feedback to us to take to the Official Supporters Board which is  ClaretandHughWHUOSB@gmail.com
Please provide as much detail as possible and include photos if applicable.
More information is available on the WHUOSB at https://www.whufc.com/fans