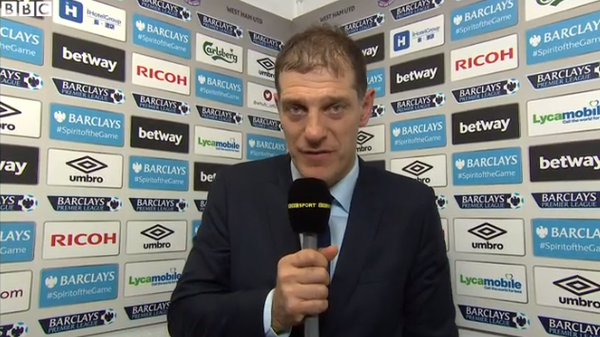 So today we put out the strongest team available to us in weeks with only Angelo Ogbonna and Diafra Sakho missing and, with an £8 million signing at central defence, plus the excellent Winston Reid we are two goals down in eight minutes!
The first goal is down to the keeper in my book – it was a low flat cross which was not intended to be a shot on goal and Darren Randolph reacted too late.
The second was just rank poor defending from a team which has now conceded  52 goals with only Swansea, Hull and Bournemouth having shipped more.
Today we played the team the fans had been crying out for with Kouyate starting in midfield, Byram at right back and Ayew as a "partner" to Andy Carroll. Yet at the end of 90 minutes it wasn't strong enough to stop Leicester City ending their 11 month wait for an away win.
The inconsistency of the team is quite shocking, the mistakes at the back – where the door is always open – beggars belief and then to compound the issues we find that an out and out defender in James Collins is left on the bench when Winston Reid is forced off.
The solution? Kouyate goes into the back four at a time when we are two down and need his energy in midfield even more than we did at the start. Unreal! One conclusion from that – Ginge is on his bike at the end of the season assuming of course that Slav is still in charge.
Now is that possible after this season of trouble and strife. Well yes because football is a game and business in which the narrowest of margins count.
Had we grabbed an equaliser the reactions would have swayed between: "What a comeback " to " forget the performance only the point matters."
Instead we are discussing chaos, disorder, dis-organisation and the possibility of relegation – all of which are over the top just as most reaction to victory or defeat tend to be.
Slav can survive – two or three results will sort that but I think we can forget any chance of him being handed an extension to his current deal – at best he will take us into the his final year with an opportunity of bringing in players who can really do it for us.
Personally when I look at the list of signings I know are his I have some reservations about his judgement of players: Jelavic, Emenike, Tore, Zaza, Nortveidt,  Feghouli and a guy who looks more like a journeyman – Fonte – than a Euro Tournament winner.
I do not expect West Ham to be relegated and I reckon that Slaven Bilic will remain in charge next season. Whether he should be is an issue  we will be discussing from now until the season closes and beyond.