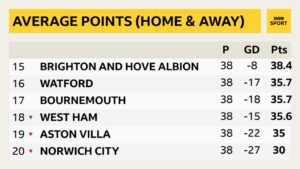 Fixtures in the EFL have been suspended since mid-March and the EFL are reportedly set to call time on the League One and League Two campaigns next week – with clubs set to vote for the season to be ended immediately.
EFL chair Rick Parry told a Department for Digital, Culture, Media and Sport committee this week that the season would have to be completed by July 31 owing to contractual issues, and this is now presenting logistical difficulties.
The EFL had previously laid out plans to finish the season, including the play-offs, in 56 days – but desire is growing among clubs for the campaign to finish.
And a vote is now set to take place next week on how to determine promotion and relegation, with clubs having already submitted a number of proposals.
But according to The Athletic, the favoured method among most clubs is a weighted points-per game solution. This method would see each team's average points-per-game calculated for their home and away fixtures respectively, then multiplied by their remaining games to simulate the final league position.
If this model was adopted by the Premier League then West Ham would be the big losers and end up relegated in 18th place saving Bournemouth instead.